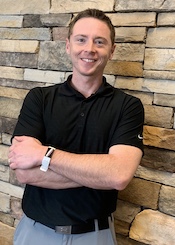 Hearthstone Golf Director/ Personal Trainer
AFPA Certified Personal Trainer
Golf Conditioning Specialist
CPR/AED Certified
email
Dan, an Easton native, has spent the past 24 years in the local golf industry developing and evolving as a player, and a Golf Professional. Dan brings a fun and welcoming approach in making golf interesting for everyone. He is inspired by seeing players develop through personalized lessons to meet individual goals. And continues to grow new and exciting programs and learn new techniques in golf instruction. Dan looks forward to bringing a new approach to Hearthstone Golf and being able to offer new and fun programs to meet all golfers' and future golfers' needs.
Along with his many years in the golf business, Dan has been a certified personal trainer for 15 years in Easton. Seeing the demands on the body through his time working with golfers, he has developed a focus on functional movement and enhancing foundation. He doesn't just want to encourage people to stay physically active; he wants to see individuals active longer, even late into their senior years.
Aside from golf, Dan is also still an avid volleyball player, competing in both indoor and beach volleyball tournaments. He is also an accomplished artist and graphic designer bringing his fun imagination and ideas to life. Dan's published golf comic strip "Banana Balls and Birdies" can be found in the Eastern Shore Golf Magazine.