Our Management and Member Services Team
Our management team is carefully chosen - not only based upon their knowledge, background and experience but also based upon their proven customer service skills. Membership at Hearthstone should feel like joining a large, extended family.
Our belief is that the fitness industry is similar to the hospitality industry. Members and guests need to be welcomed with each visit and thanked, repeatedly, for their business and loyalty. It takes a special breed of individual who can truly empathize with people and make them feel special. We think our team is second-to-none and believe that you will agree with us after just your first visit.
To learn more about the health-related degrees, accreditations and certifications of our staff, please read the following biographies: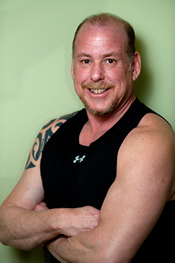 President + CEO
BBA- Accounting
College of William + Mary
CPA – Virginia
email
Throughout his life, Dave has battled weight issues, Type 2 Diabetes, Crohn's Disease, high blood pressure, and asthma. He tried just about every diet remedy on the market, all coupled with a wide variety of exercise programs, none of which seemed to have a dramatic effect on his overall health. In December 2010, he began a life-changing journey to regain his health, which involved finding the right combination of physician, personal trainer and nutritionist that would work as a team to support Dave in meeting his goals.